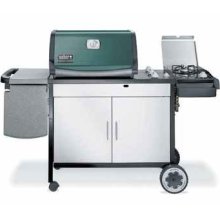 When we bought our house in 2000, our friends got together and bought us a Weber Grill. We entertained a lot back then. Our friend Mike put on his brass knuckles and told people "you know you're going to benefit from this contribution, so get that wallet out."  I'm happy to report that he was not wrong.   Anyway, 10 years later, our grill cover is tattered, our grates are rusted and the grill has several hot spots.
It's the end of the season so I thought I'd look out for some deals. I went on Amazon and indeed found the flavorizer bars, the grates and cover for sale.  When I looked in the shopping cart it tallied to $150, ouch. It will eventually need some other parts, burner tubes, igniter, etc, so I checked the price of a new grill, as this one was in the $400 range at the time we got it. Wow it's now $700.  Repair wins the repair vs replace battle hands down.
So that got me thinking about how many things I've bought since I graduated college that actually last a long time, but first a Babci quote.
Babci says "Cheap things are expensive."
In other words, it's better to buy a quality item that lasts instead of buying a flimsy item that will break or wear out before the end of it's useful life. I have to agree with Babci on everything except electronics. Technology is changing too quickly with electronics, so we opt for the lower end options there. I hate shopping, so the less often I have to do it, the better.  In general, I've been disappointed with how things don't last as long these days, so I thought I'd remind myself of the things I bought either when I got out of college (15 years ago) or bought my house (10 years ago) that are still going strong.
Weber Grill – This grill looks practically brand new. I've had it 10 years and it just now needs a little TLC.
Rubbermaid Garbage Cans – I negotiated them in with my house in 2000 and they are still as tough as ever. I'm not sure of their age as they were already used when I bought them.
Towels – I swear these last forever. My husband has beach towels that are almost 30 years old. If you ever wonder if you should spend an extra $5 on the towel you really want, do it because you'll have it forever.
LL Bean Flannel Sheets – We have 2 sets that are 15 years old that still haven't pilled. We bought a couple of new sets for our kids. I was very disappointed when the new ones started to pill after one season. They have a great return policy..you can return anytime if you're not satisfied, so I returned them and upgraded to the Deluxe Supima Flannel and it's been great. I have to disclose though that I have a problem with fine bedding.
EMS Backpack – I bought a big camping pack for trekking across Europe 20 years ago. That thing has been so abused and on so many vacations, I can't believe it's still functional. I had to replace one buckle that a baggage claim ate, but apart from that, it's still tip top. I can't say the same of my rolling bags which I'm on my 3rd one.
Of the rolling bags I've had, the Samsonite one has by far lasted the longest. It's almost 10 years old and the only thing that is wrong with it is the zipper pull fell off, but the zipper itself is still strong.   We travel a lot for work and for fun, so my rolling bag gets used at least 2x/month.  On other bags, I've had zippers break, bags tear, wheels fall off.  I also like that the handle is made for tall people. The other rolling bags I've had must be made for short people because I had to hunch way over to roll it.
REI Convertible Pants – I love these.  I live in them when I'm not at work and they're great for hiking and travel too. They wash well, they dry fast and they are very comfy. They are cool enough to wear in the summer and protect you from mosquitoes. They are the best and I've had my last 2 pairs for over 10 years.
Speedo or LandsEnd Bathing Suits –  I thought I was nuts when I spent $85 on a bathing suit 15 years ago. I needed a one piece that didn't give me a wedgie when diving. Speedo had long torso sizes which I needed. Up until then I wore cheap bikinis and they lasted 2-3 years max.  I just replaced my Speedo with a Lands End this year. I've heard similar things of that brand so I'm looking forward to another 15 years of durability and comfort.
Le Creuset Dutch Oven – I was lucky to buy my first one at a tag sale for $5. I've since bought 2 more. My mother in law has one that she still uses and it's  44 years old.
Kitchen Aid Mixer – My mom bought this for herself and decided it was too heavy to lug around.  I now have it.  It's 20 years old and still looks and runs like new.  It's seen some crazy heavy doughs in it's day and it's never disappointed me.
Old Furniture – Most of the furniture in our house is over 100 years old. I heart dovetail drawers. It seems so much better made than the glued and plywood backed stuff that's in the stores now.
Ball Canning Jars – Okay, these things must last forever. I have some that I know are over 50 years old because my aunt and uncle got them around the time they came to this country.
I haven't received any money or freebies  for endorsing these brands. They are just items that I vouch for as high quality and worth the extra cost.

What items are in your house that are at least 10 years old and still going strong? I'd also like to know brands as I'm always looking to know what things last the test of time.