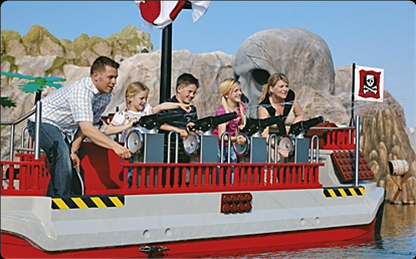 Since I posted my chasing seagulls inquiry last week, I'm starting to question my definition of good clean fun relative to my other readers. 
To see if I could clear up the issue once and for all, I need to share another story about a trip to Legoland, CA we took last year.  We were in town for a close friend's wedding and it just seemed like a fun place to go. 
The story takes place on Pirate Island in Legoland.  My husband and I were taking turns as to who would be with the baby and who would do the rides with our other son and I got to do this particular ride. It was hands down the funnest ride I'd ever been on.  It's not fun in a roller coaster type way.  It's fun because it's very interactive.  You have these hand crank water guns that shoot a pretty good distance and at first you are shooting people in the other boats. As the ride goes on, you get to a point where you can shoot spectators and they can shoot you back. I remember getting nailed in the face by one of these clever spectators from a secret shooting location.  The boat is moving so it's not like you get to really super soak any one individual. Plus, if you're an onlooker, you can see the wet spots on the ground and you stand back from shooting range. 
Shooting spectators was my favorite part of the ride and I was yelling to my son "Shoot them, Shoot Em All!" We were both laughing hysterically.  I was too excited to notice this at the time, but because I was so excited about nailing the onlookers, I was cranking my watergun at about a million RPM.   My husband was watching the whole thing and said that my gun went about 10 feet further than anyone else's.
So here's where the questionable morals part of the story comes in. We're shooting along and in the middle of  the spectators was a little old lady in a wheelchair and I yelled "GET HER" and we did. I mean we didn't soak her, but she definitely got wet and was surprised that someone actually shot her. I blame whoever parked her in front of a shooting water ride.  We pretty much singled out anyone in range and she just happened to be one of the dozen or so people we blasted.
I get off the ride laughing and asked my husband if he saw us shoot the old lady in the wheelchair.  I forget what he said but I defended myself  by saying she was fair game because she was within spraying distance and obviously wanted to cool off a bit. 
This is what I'd call a classic Sandy story but now I wonder if my idea of innocent fun would be considered more sinister to others. I can tell you if I ran into crazy seagull protecting lady, I would have loved to spray her in the face with my watergun.
So what's your vote?  Should I have stopped my gun when I neared the old lady and spared her and all the ones around her? Or should I have gotten every squirt possible out of my 50 minute wait in line?
Oh and just to finish off on Legoland. It was a great little park for young children. I took my son when he was 4 and there were all kinds of wonderful and fun kiddie rides and activities (the ball room was also very fun). I found it way more fun than disney for a kid his age because there were a ton of things that he could participate in and the whole place was setup so that you could play with other kids.  I'd definitely go back there if I was in the neighborhood again.