Ground Hog 0 – Babci 1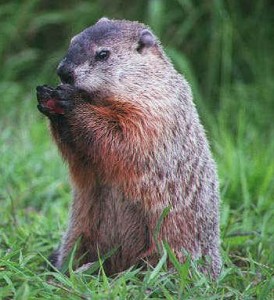 Over the weekend, I received an urgent call from my mother.  A furry and very fat ground hog decided that the perfect place to setup residence would be in a cozy hole nestled between my mom's raspberry bushes and her row of beets.   We told her that we'd come over the next day with some smoke bombs and "take care of it" Pulp Fiction style.  My 4 year old son then proceeded to draw up an elaborate plan to smoke him out.
 Well at about noon the next day, I get another frantic call.  "He got my tomato plants. I can't wait any longer"  and click she hangs up.  I could tell from the resolve in her voice that there was no way some Groundhog was going to eat any more plants that she just spent months lovingly growing from seed.
 The Geriatric Commando went into full swing.  She pushed her wheelchair over to the hole and  parked herself in front of  it. She then assumed ready position with her garden hose.  Every time that groundhog reared it's fat little head, it got sprayed in the face. This went on all day. When we arrived at 5:30, she had already declared victory.  Apparently after just a day of water boarding, the groundhog decided that no veggie patch was worth this kind of torture. 
 My son was disappointed that he was not able to execute Operation Save Babci's Garden  Otherwise, I'm very impressed that she managed to humanely get rid of that groundhog without  spending a dime on traps, poison, etc.