It's wedding season, so I thought I'd take a trip down memory lane so that we can share our frugal wedding stories.
I'll go out on a limb and say I know a thing or two about weddings. NO, it's not because I've been married multiple times, but because I worked 2-4 weddings a week for several years in college.  To this day, hearing The Electric Slide makes me want to vomit.
So what happens to you when you've witnessed a couple hundred people share the "most important day of their life?" Well, you realize how cookie cutter and totally lame most weddings really are. People think their weddings are personalized, but I'll tell you that only a handful I saw seemed really unique. In fact, when hydrangeas were trendy, every wedding had them for months. BORING!
I decided I knew the things I could save money on without the guests really caring.  My mother in law is awesome, so I shared all the itty bitty details with her.  Unlike my own mother, she is also very polite. It wasn't until the day of the wedding that I realized I probably shared a few too many details of my frugalness.  She was visibly relieved to see that everything came together just fine.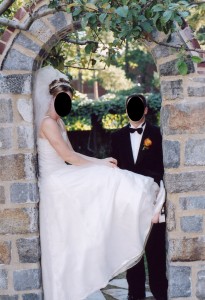 So here's where we saved:
Wedding Dress – My mom made my dress, much of it by hand. I think it cost about $250 in materials + quite a few screaming matches. It was matte satin with a silk organza outer layer. There was also beading on the front. You can't tell from the picture but the fabrics were really airy and  lovely.  All my family was shocked at how nice the dress was. You see, by the wedding day, everyone knew about my home made dress and people were  imagining raggedy Ann or a dress gone wrong from an episode of project runway. My mom  is quite talented even though she was self taught..and legally blind at the time.
Venue – We got married in a castle with gorgeous grounds and had the whole facility to ourselves. Cost $400. The place was donated to my university by an alum and I received an alumni discount.  You're getting married where? On a university campus?
Attendees – we had 33 people at our ceremony and reception for family. We then had a rockin house party 2 weeks later for about 60 of our friends. It was catered so I didn't have to run around and do stuff. The funnest weddings I'd ever been to were held in people's homes because they were relaxed and unstructured. We definitely wanted that feel.
Music – We hired out a string quartet from the jazz club at my university. They were 1/3 the price of professional musicians and were really fantastic.    Again, I think people were picturing young kids missing notes and playing like they were in a 2nd grade recital. We did not have a DJ or band at the reception because a) the groom hates dancing and b) it was held in a hip steakhouse that had it's own jazz music playing in the background.
Centerpieces – We ate at a restaurant and they had a single fresh flower at each table so we didn't need them.
Invitations – I bought the cheapest ones out there. One of my friends bought these fancy ones with gold leaf and I couldn't even read them. As long as they were legible, they were good in my book.
Photographer – I have a photographer friend who took our photos and was also our solemnizer. (He loved calling himself that.) Our photos are amazing. He is unbelievably talented.
Videographer – We asked another friend (not professional) for help there and well. Something happened with the video camera and we have very little wedding video.  That was the one thing that didn't go according to plan.
Limo – My cousin had a white CRV, so we used that.
Accessories – I borrowed my hoop slip and headpiece.
Cake – It was like $30. It was a one tier carrot cake with dots on it as a decoration. It tasted better than a wedding cake and it wasn't priced like one.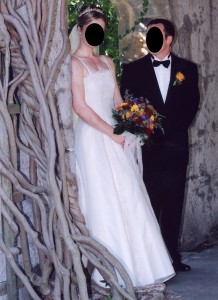 Where we splurged
Food – Nothing's more memorable than a dry chicken ball topped with wallpaper paste gravy. I've had a lot of bad chicken balls in my day.  We ate at an upscale restaurant and people were able to choose from about 9 entrees off the menu.
Drinks – It was open bar.
Honeymoon – We went to Africa on Safari and climbed Mt. Kilimanjaro.
Music – I hired a 5 piece big band for our house party, plus the quartet for the procession and cocktail hour. I wanted to give some dough to local artists so it was all good.
So our wedding and house party cost us about $5K, but our honeymoon was $9K! I'll admit the honeymoon was more than we'd ever spent and I don't think I'll go that posh ever again. Safari was a lifel0ng dream, so we figured that would be a good time to do it.
We already owned a fixer upper home so it was easy to say "do I want to spend $1000 on flowers or use that to remodel my avocado bathroom?"
My biggest advice is the following. You'll get a lot of pressure to invite Aunt Nellie's long time neighbor and other random people.  Don't succumb to peer pressure. Do what you want.
And don't be afraid to completely remove things that you don't care about.
I'd love to hear the reader's creative money savings tips for weddings.  Are there any items you regretted either splurging or skimping on?