This Saturday I had a really fun afternoon with the kids. With the extra 2 days off, the normal errands that need doing on the weekends were already behind us.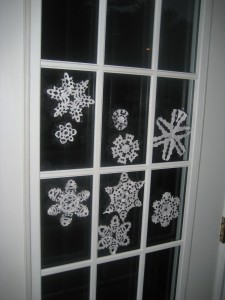 We started off by buying a $300 used Kohler tub at the Restore for $50 (Ka-ching) that looked like it had never been used. My husband was taking the weekend to slave away on Babci's bathroom, so my job was to keep the kid's entertained.  After a little snack at Babci's (cream of wheat with maple syrup),  we went to the mall to the "Bouncy Place".  When we got back home, my little one collapsed for a nap. We had already watched too much TV this week, so my 5 year old decided that he wanted to make a couple of paper airplanes. I have no idea where he came up with that idea, but since I am a crappy paper airplane maker, I googled it. That interest lasted about 2 minutes, so I decided I wanted to make some snowflakes instead.
I used to make snowflakes as a kid but they weren't always as cool as some of the ones I've seen. When I researched it, I realized I was folding the paper all wrong.   If you decided to have a little fun with it, make sure you find a good snowflake site, like Dave's Snowflakes.  He has a good diagram on how to fold the paper and also has some free patterns if you're creatively challenged. If nothing else, it was good to see how his patterns translated to different features and it gave me some inspiration.
My 5 year old had a little trouble with cutting out the patterns, so if your child is younger, you can take a marker and ask them to draw a shape on the  folded up paper. If they can't cut it themselves then you can do it for them yet they still feel like they designed it themselves.  Later on, we found a hole puncher and my son was able to punch out his own patterns lickety split. I wish I took a photo of the mess we made. There were bits of paper everywhere.
Long weekends are great. I truly felt like I had a little extra time to just goof around and have fun. I wish every weekend could be so carefree.  I also like making Christmas cookies this time of year, but it seems like it's much more of a  time commitment. With snowflakes, you can do it for as long as you're interested, but you can also stop at anytime.  This might become a new tradition.
What are people's favorite free holiday things to do?